| | | | |
| --- | --- | --- | --- |
| | | Василиса▶ Я жду вашего обращения. Что Вы хотите узнать? | |
| | | | |
Magnetic Functions Beyond the Spin-Hamiltonian | SpringerLink
Advertisement
This service is more advanced with JavaScript available
Home
Log in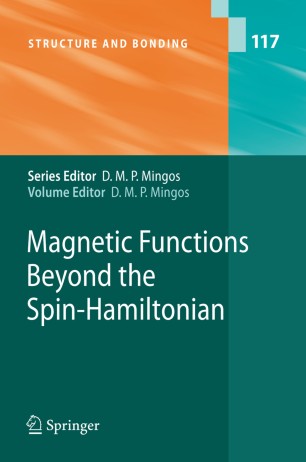 Magnetic Functions Beyond the Spin-HamiltonianEditorsD. M. P. Mingos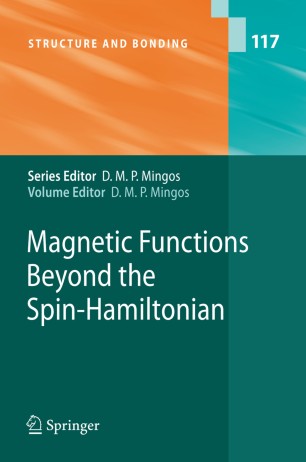 Book
Citations
776Downloads
Part of the Structure and Bonding book series (STRUCTURE, volume 117)
Table of contents Front Matter
PDF
Magnetic Parameters and Magnetic Functions in Mononuclear Complexes Beyond the Spin-Hamiltonian Formalism
Roman BočaPages 1-264Back Matter
PDF
About this bookIntroduction
Using the spin-Hamiltonian formalism the magnetic parameters are introduced through the components of the Lambda-tensor involving only the matrix elements of the angular momentum operator. The energy levels for a variety of spins are generated and the modeling of the magnetization, the magnetic susceptibility and the heat capacity is done. Theoretical formulae necessary in performing the energy level calculations for a multi-term system are prepared with the help of the irreducible tensor operator approach. The goal of the programming lies in the fact that the entire relevant matrix elements (electron repulsion, crystal field, spin-orbit interaction, orbital-Zeeman, and spin-Zeeman operators) are evaluated in the basis set of free-atom terms. The modeling of the zero-field splitting is done at three levels of sophistication. The spin-Hamiltonian formalism offers simple formulae for the magnetic parameters by evaluating the matrix elements of the angular momentum operator in the basis set of the crystal-field terms. The magnetic functions for d n complexes are modeled for a wide range of the crystal-field strengths.
KeywordsAtom Theroretical Chemistry classification crystal electron energy heat inorganic chemistry magnetism magnetization system Bibliographic informationDOIhttps://doi.org/10.1007/b136753Copyright InformationSpringer-Verlag Berlin Heidelberg 2006Publisher NameSpringer, Berlin, HeidelbergeBook Packages
Chemistry and Materials Science
Print ISBN978-3-540-26079-0Online ISBN978-3-540-32501-7Series Print ISSN0081-5993
Buy this book on publisher's site
Switch Edition
Academic Edition
Corporate Edition
Home
Impressum
Legal information
Privacy statement
How we use cookies
Cookie settings
Accessibility
Contact us
Springer Nature
© 2014-2020 ЯВИКС - все права защищены.