| | | | |
| --- | --- | --- | --- |
| | | Василиса▶ Я жду вашего обращения. Что Вы хотите узнать? | |
| | | | |
Consumption - Greenpeace International
MenuClose MenuSelected: International Change Country
Act
Learn
Donate
Toggle search form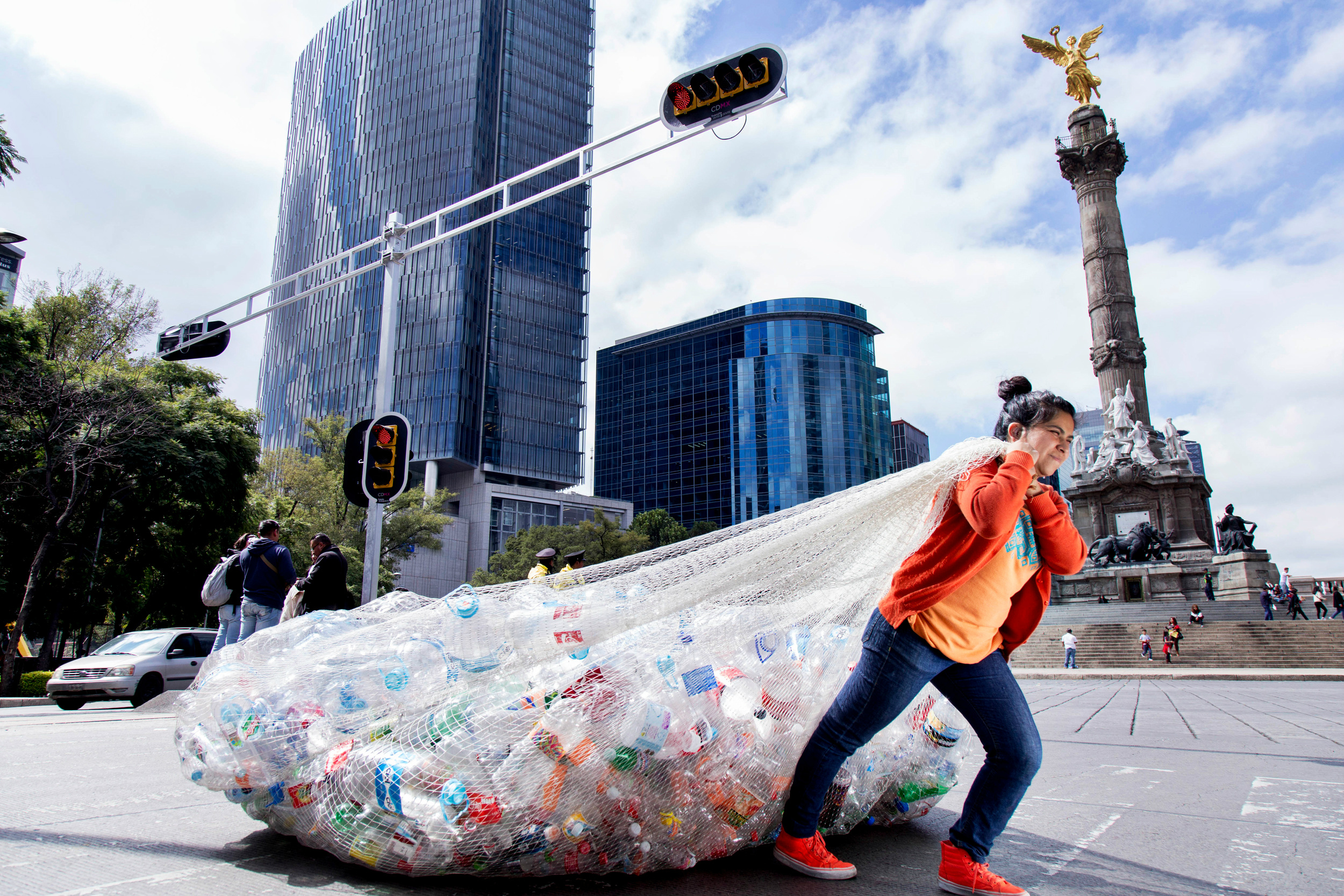 People
#Consumption
Buy. Use. Throw away. Buy more. Fast food, fast fashion, single use plastic and disposable electronics are trashing our planet. Let's buy less, live more.
Unsustainable consumption is driving a vicious cycle of environmental destruction and injustice. And it's not making us happy.
We have to work to make sure that our human economies function within nature's limits. Let's define ourselves, not by what we own but through our experiences and relationships. Not by what we consume but by what we contribute.
By working together we can turn a vicious cycle into a virtuous one, giving both the planet and peace a chance.
Things you can doWe want you to take action because together we're strong.
#Consumption
Tell Nestlé to stop single-use plastic
Tell Nestlé to stop harming our planet with destructive and unnecessary single-use plastic before it is too late!
Take Action
#Consumption
#Oceans
Call for a Plastic-Free Future
We are calling on people around the world to create a "Million Acts of Blue".
Take Action
#Consumption
#Food
Eat less meat, more plants, tell your friends
The meat and dairy industry's relentless quest for profit is putting all of us at risk.
Take Action
#Climate
#Consumption
#Food
Reconnect with food
Right now, most of us don't know where our food comes from.
Take Action
#Consumption
Detox My Fashion
Global fast fashion brands are churning out more clothes than the planet can handle.
Take Action
Latest Articles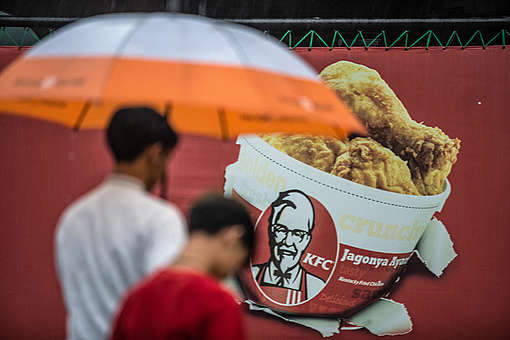 Story
#Consumption
#Forests
5 reasons McDonald's, Burger King, KFC must speak up about the Amazon fires
The Amazon rainforest is on fire. But what does this have to do with McDonald's, KFC and Burger King? Here are the top 5 reasons why these fast food giants…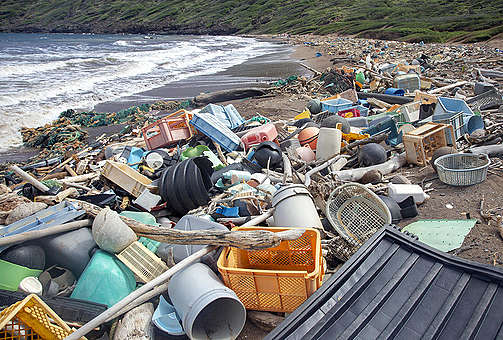 Story
#Consumption
Inspired to tackle plastic pollution? Try a brand audit!
Much of plastic polluting our communities comes clearly branded with a company name, which means we can hold these companies accountable. Members of the Break Free From Plastic movement from…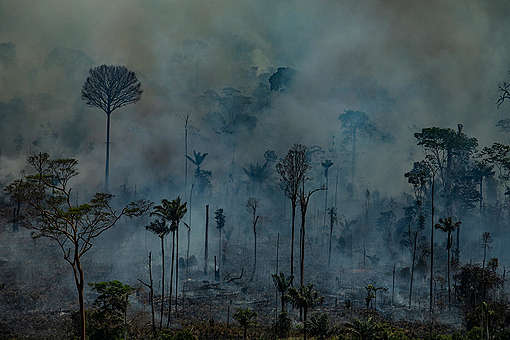 Press Release
#Consumption
G7 Summit: climate pledges but no binding decisions to rapidly cut emissions
"We need more than words to tackle the climate emergency."
Publications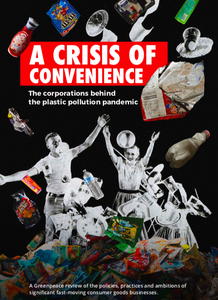 A Crisis of Convenience: The corporations behind the plastics pollution pandemic
October 2018
To what degree are global FMCG companies doing to address the environmental and social impacts of their plastic packaging and waste?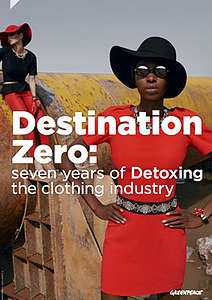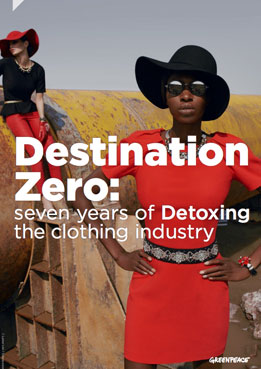 Destination Zero - Seven Years of Detoxing the Clothing Industry
July 2018
A new Greenpeace Germany report shows the progress of global clothing brands and suppliers in detoxing from hazardous chemicals, as well as identifying future challenges for all stakeholders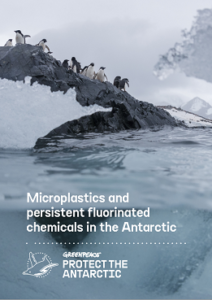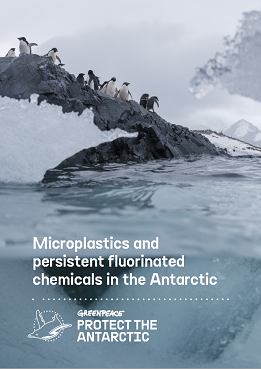 Microplastics in the Antarctic
June 2018
In early 2018, Greenpeace undertook an expedition to the Antarctic to carry out scientific research, including seabed submarine dives exploring little known benthic ecosystems and sampling for microplastics and persistent…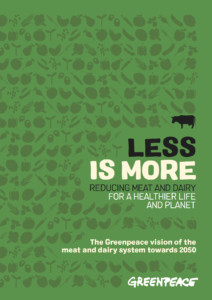 Less Is More
March 2018
Reducing meat and dairy for a healthier life and planet — the Greenpeace vision of the meat and dairy system towards 2050.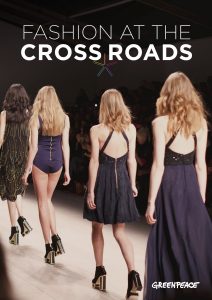 Fashion at the Crossroads
September 2017
Since 2011 Greenpeace has been calling on major brands to eliminate the uses and releases of harmful chemicals from their production chain, through their Detox commitments, without which the circular…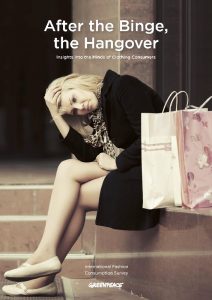 After the Binge the Hangover
May 2017
Consumers are no longer shopping because they need something. On the contrary: younger people in particular shop despite already having too much, longing for fulfillment and encouraged by social media…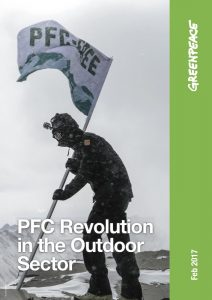 PFC Revolution in Outdoor Sector
February 2017
PFCs are used in many industrial processes and consumer products, and are well known for their use by the outdoor apparel industry in waterproof and water-repellent finishes.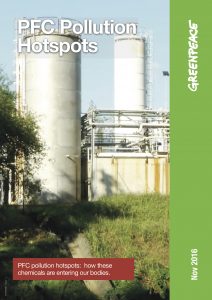 PFC Pollution Hotspots
November 2016
The manufacture of hazardous per- and polyfluorinated chemicals (PFCs) is leading to contamination of the local environment, including surface water, drinking water, groundwater as well as air and dust.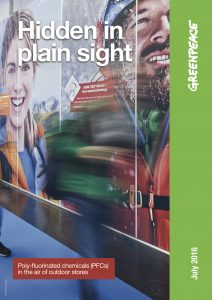 Hidden in Plain Sight
July 2016
A recent investigation by Greenpeace has found hazardous poly-fluorinated chemicals (PFCs) in the indoor air of stores selling outdoor gear in Europe and East Asia. Samples were taken in the…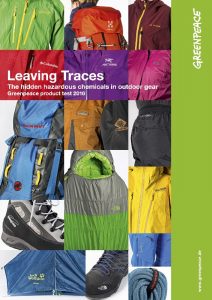 Leaving Traces
January 2016
In this latest investigation Greenpeace tested a range of outdoor gear for hazardous per- and polyfluorinated chemicals (PFCs). The study reveals that not only outdoor clothing and footwear but also…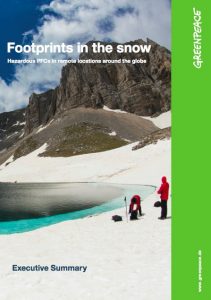 Footprints in the Snow
September 2015
Outdoor brands and their suppliers rely upon stunning natural images of lonely, pristine mountain lakes and remote snowy mountain ranges climbed by famous outdoor adventurers for their advertising. Yet the…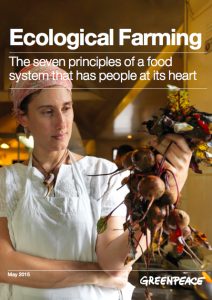 Ecological Farming: The seven principles of a food system that has people at its heart
May 2015
We are living with a broken food system. It needs to be replaced urgently for the benefit of all people, and the planet. Greenpeace's Food and Farming Vision describes what…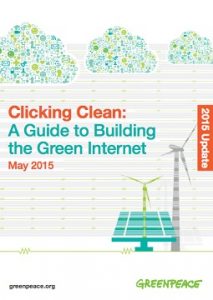 Clicking Clean
May 2015
While there may be significant energy efficiency gains from moving our lives online, the explosive growth of our digital lives is outstripping those gains. Publishing conglomerates now consume more energy…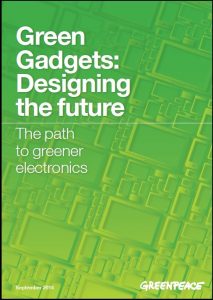 Green Gadgets: Designing the Future
September 2014
Today, more and more people around the world rely on laptops, phones and tablets as an essential part of their everyday lives. However, the rate at which they purchase and…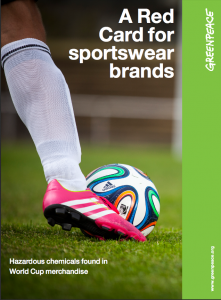 A Red Card for sportswear brands
May 2014
This study follows on from several previous investigations published by Greenpeace as part of its Detox campaign, which identified that hazardous chemicals are present in textile and leather products as…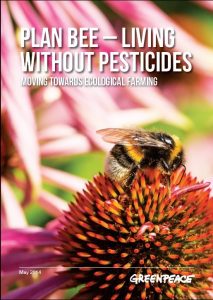 Plan Bee – Living Without Pesticides
May 2014
The drastic decline of wild and managed bee populations recorded in recent years in Europe and North America is alarming given our reliance on these insect pollinators for biodiversity and…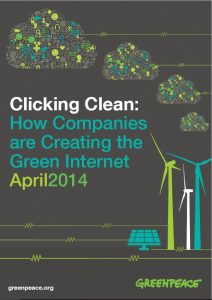 Your Online World: #ClickClean or Dirty?
April 2014
From social media to music, streaming video, email and commerce, we are increasingly moving much of our lives online. But which companies are storing all of that data, and how…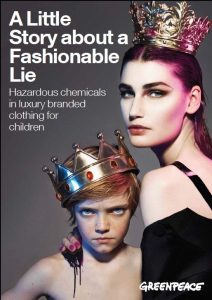 A Little Story about a Fashionable Lie
February 2014
A new investigation by Greenpeace International has found a broad range of hazardous chemicals in children's clothing and footwear produced by eight luxury fashion brands.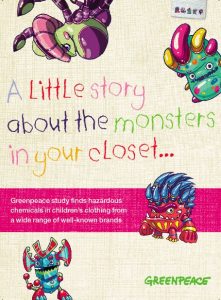 A Little Story About the Monsters In Your Closet
January 2014
A new investigation by Greenpeace has found a broad range of hazardous chemicals in children's clothing and footwear across a number of major clothing brands, including fast fashion, sportswear and…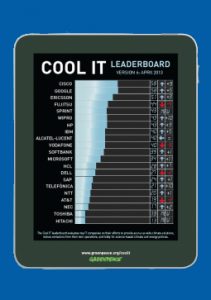 Cool IT Leaderboard
April 2013
The Cool IT Leaderboard evaluates global IT companies on their leadership in the fight to stop climate change. The IT sector possesses the innovative spirit, technological know-how, and political influence…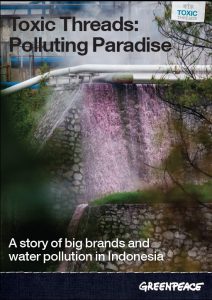 Toxic Threads: Polluting Paradise
April 2013
Greenpeace International has commissioned a new investigation that delves even further into the hazardous chemicals used in the production of high street fashion, going beyond previous investigations in China and…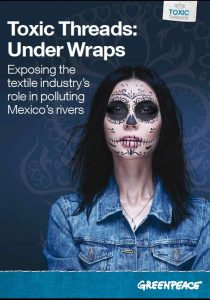 Toxic Threads: Under Wraps
December 2012
Water is considered sacred in Mexican culture, yet it is under threat from many environmental pressures, including pollution to such an extent that people suffer from water scarcity. More than…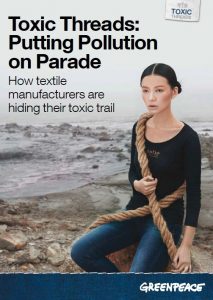 Toxic Threads: Putting Pollution on Parade
December 2012
How textile manufacturers are hiding their toxic trail. A new investigation by Greenpeace International has found a wide range of hazardous substances in the effluent of communal wastewater treatment plants…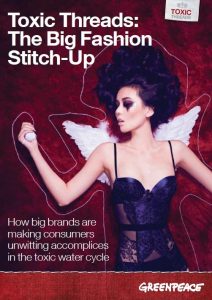 Toxic Threads: The Big Fashion Stitch-Up
November 2012
Spurred on by the success of Greenpeace's Detox Campaign, which exposed the links between textile manufacturing facilities using toxic chemicals and water pollution, the investigation was expanded to include 20…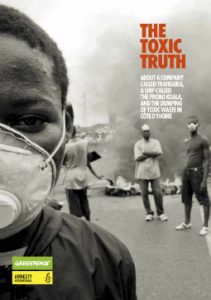 The Toxic Truth
September 2012
This is a story of corporate crime, human rights abuse and governments' failure to protect people and the environment. A joint report by Amnesty International and Greenpeace Netherlands.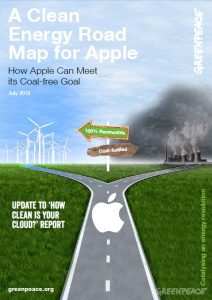 Apple Clean Energy Road Map
July 2012
The following analysis updates our evaluation of Apple to account for its recent clean energy announcements, and outlines the additional steps Apple should take to fulfill its laudable ambition to…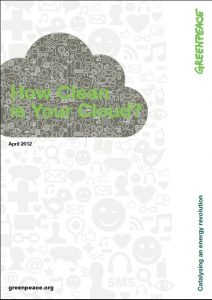 How Clean is Your Cloud?
April 2012
How much energy is required to power the ever-expanding online world? What percentage of global greenhouse gas emissions is attributable to the IT sector? This report takes a look at…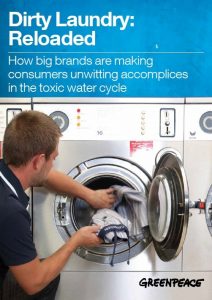 Dirty Laundry: Reloaded
March 2012
Water is essential for life, but it is also the world's most threatened essential resource. It is imperative that solutions are found to stop poisoning the precious resources we have…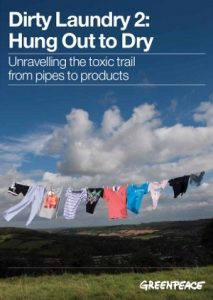 Dirty Laundry 2: Hung Out to Dry
August 2011
Research commissioned by Greenpeace International has revealed that clothing and certain fabric-based shoes sold internationally by major clothing brands are manufactured using nonylphenol ethoxylates (NPEs). NPEs -- which are used…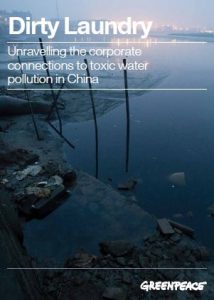 Dirty Laundry
July 2011
A new investigative report from Greenpeace, 'Dirty Laundry', profiles the problem of toxic water pollution resulting from the release of hazardous chemicals by the textile industry in China. The investigations…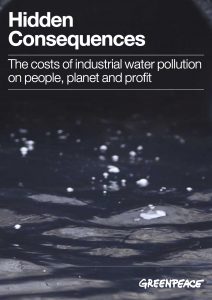 Hidden Consequences
May 2011
Industrial pollution is a severe threat to water resources around the world, particularly in the Global South where the view prevails that pollution is the price to pay for progress.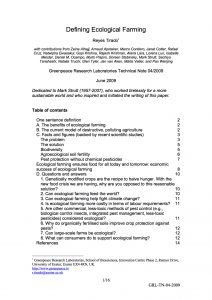 Defining Ecological Farming
May 2011
Ecological Farming ensures healthy farming and healthy food for today and tomorrow, by protecting soil, water and climate, promotes biodiversity, and does not contaminate the environment with chemical inputs or…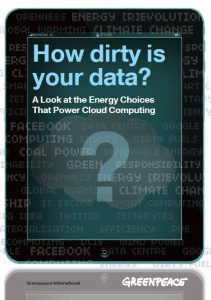 How dirty is your data?
April 2011
"How Dirty Is Your Data?" is the first ever report on the energy choices made by IT companies including Akamai, Amazon.com (Amazon Web Services), Apple, Facebook, Google, HP, IBM, Microsoft,…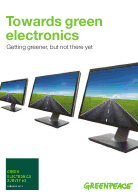 Green Electronics Survey #3
January 2011
Greenpeace congratulates the electronics industry on making progress the many technical hurdles it has been facing - but we also show that the industry hasn't finished finding green solutions just…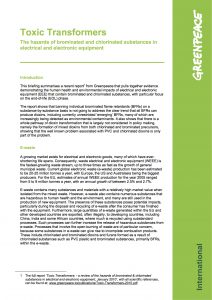 Toxic Transformers Briefing
February 2010
This briefing summarises a recent report from Greenpeace that pulls together evidence demonstrating the human health and environmental impacts of electrical and electronic equipment (EEE) that contain brominated and chlorinated…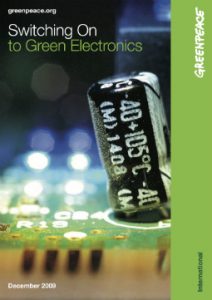 Switching on to Green Electronics
December 2009
It's time for the electronics industry to green-up: this report details the problems with toxic components, recycling and energy policies, explaining what the industry needs to do to lessen its…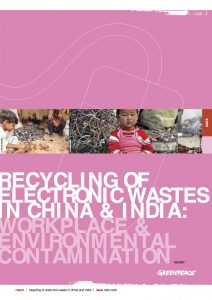 Recycling of electronic waste in India and China - Summary
August 2005
Expansion of the global market for electrical and electronic products continues to accelerate, while the lifespan of the products is dropping, resulting in a corresponding explosion in electronic scrap.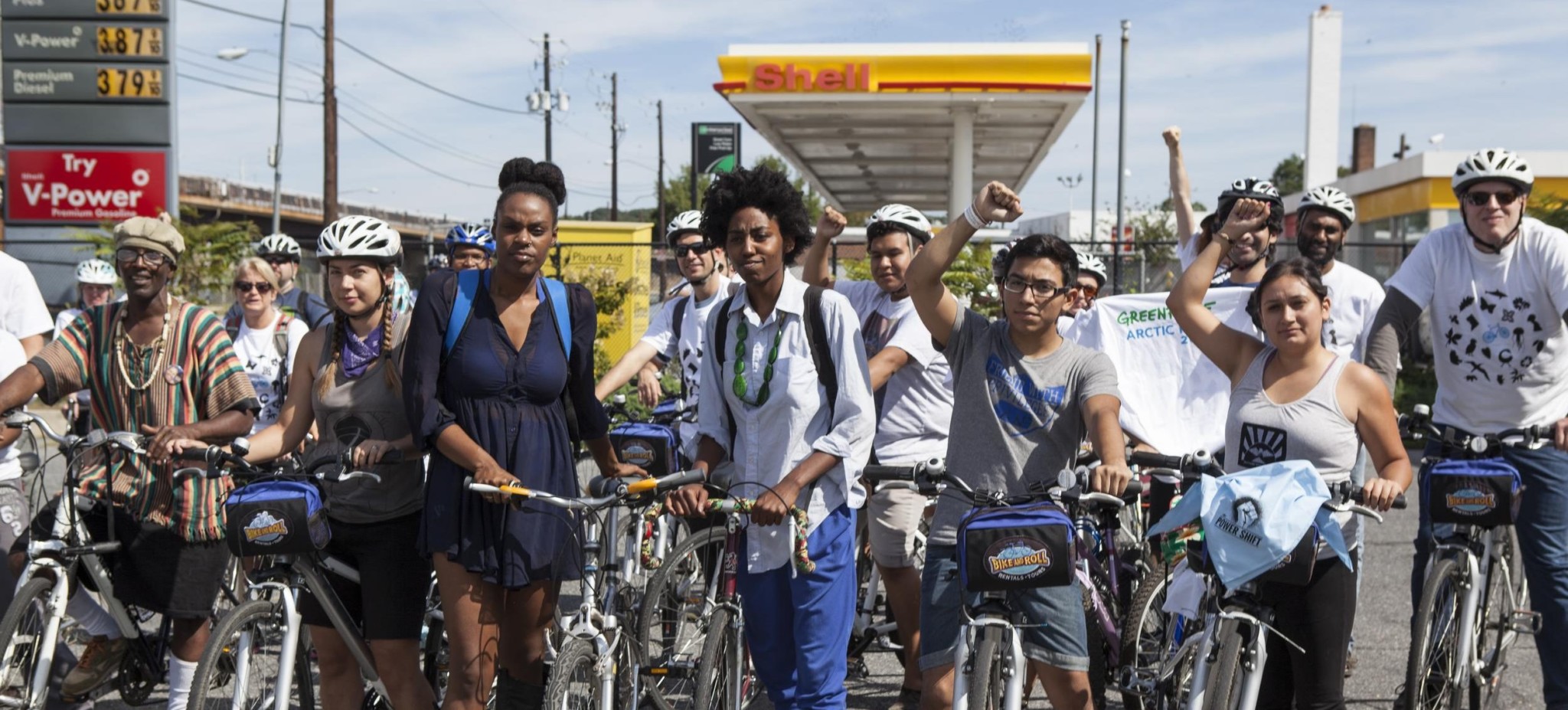 Facebook
Twitter
Youtube
Instagram
Linkedin
About Us
Contact Us
Press Centre
Jobs
Sitemap
Privacy and Cookies
Copyright
Terms
Community Policy
Search the archive
Unless otherwise stated , the copy of the website is licensed under a CC-BY International License
Greenpeace International 2019
We use cookies to enhance your experience. By clicking "Got it!" you agree to our
Privacy & Cookies Policy
. You can
change your cookies settings anytime
.
© 2014-2019 ЯВИКС - все права защищены.