| | | | |
| --- | --- | --- | --- |
| | | Василиса▶ Я жду вашего обращения. Что Вы хотите узнать? | |
| | | | |
Jokowi declares victory as official vote count underway - CNN.com
SHARE THIS
More sharing
Reddit
StumbleUpon
Delicious
Indonesian presidential candidate declares victory, opponent says not so fastBy
Madison Park
and Kathy Quiano, CNNupdated 2:17 AM EDT, Thu July 10, 2014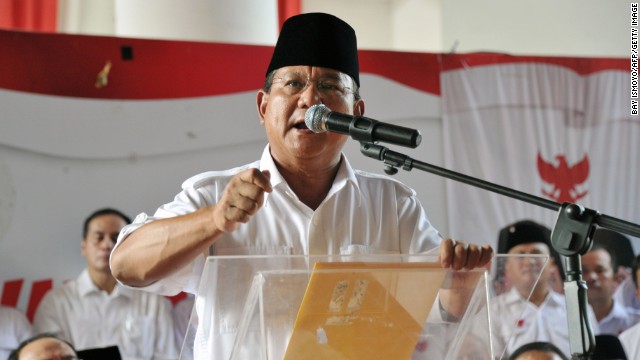 Indonesian presidential candidate Prabowo Subianto says he's withdrawing from the election process prior to the vote count announcement in Jakarta on July 22. Indonesian police secure the area around the General Elections Commission building in Jakarta on prior to the election count announcement. The presidential election was held July 9. Indonesian presidential candidate Joko Widodo greets his supporters as he declares victory in the election. But official election results are expected July 22. Indonesian presidential candidate Prabowo Subianto greets supporters as the vote count continues. A man tallies the vote count at a Jakarta polling station after the presidential election. Supporters of Indonesian presidential candidate Prabowo Subianto gather inside a convention center in Jakarta on July 9. Indonesian presidential candidate Prabowo Subianto casts his ballot at a Bojong Koneng polling station on July 9. Indonesian presidential candidate Joko Widodo, at left, and his wife Iriana, show their inked fingers after casting their ballots during the presidential election in Jakarta on July 9. A Balinese woman inks her finger after voting in the presidential election in Bali on July 9. Children wait for their parents who vote in the presidential election in Bali on July 9. As the world's third-largest democracy held an election for a new president. An Indonesian woman gets ink on her finger to indicate she has cast her ballot in Jakarta. Presidential candidate Joko "Jokowi" Widodo visits a traditional market during his campaign in Jakarta on June 30. Known for his folksy and humble demeanor, Widodo symbolizes a new breed of leadership to his admirers. Presidential candidate Prabowo Subianto, at left, and running mate Hatta Rajasa wave to supporters during a campaign rally on June 22. Prabowo was a special forces commander under the regime of his former father-in-law Suharto. Members of an Islamic party supporting presidential candidate Prabowo Subianto attend a campaign rally in Jakarta on June 22. For his supporters, Prabowo has the qualities of a firm and decisive leader.HIDE CAPTIONIndonesia's presidential electionIndonesia's presidential electionIndonesia's presidential election<<<

1

2

3

4

5

6

7

8

9

10

11

12

13

14>>>
STORY HIGHLIGHTSUnofficial quick counts show slight edge for "Jokowi" Widodo over Prabowo SubiantoWidodo declares it's a "new phase in our history"Official count of paper ballots will take two to three weeks Prabowo pleads patience as vote count underway
Jakarta, Indonesia (CNN) -- Hours after voting ended in Indonesia's presidential race, candidate Joko "Jokowi" Widodo proclaimed victory while his rival Prabowo Subianto urged patience as the official vote count proceeded.
Results of an unofficial quick count on Wednesday indicated a slight edge for Widodo, a former furniture exporter who rose to become Jakarta governor, ahead of Prabowo, a former military man.
"Today, Indonesia's new son has been chosen by the people," Widodo declared. "We begin a new phase in our history and we start a new beginning of Indonesia."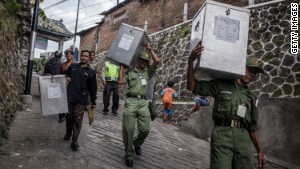 Polls open in Indonesia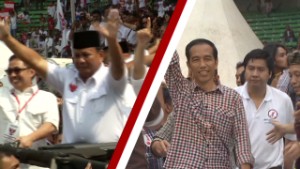 Indonesia democracy and religion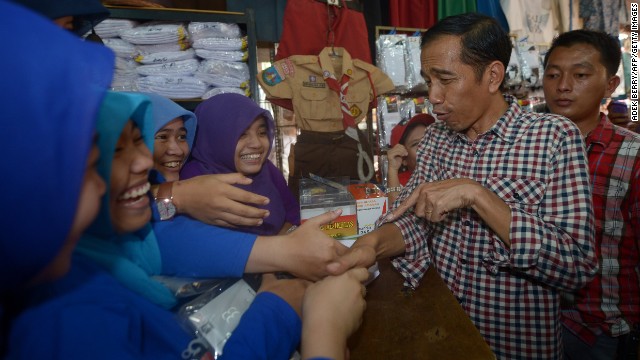 Indonesian candidates use social media
Widodo's leap from relative obscurity to potential leader of the world's most populous Muslim nation has drawn comparisons to U.S. President Barack Obama's meteoric rise in 2008. For his supporters, the "Jokowi effect" heralds a new breed of political leaders -- a break from Indonesia's tradition of leaders with military, bureaucratic or elite backgrounds.
"It's not a victory for the party, not a victory for the team but this is a victory for all Indonesian people," Widodo told his supporters, dressed in his trademark checkered shirt.
Independent pollsters indicated about 52-53% of votes for Widodo and 46-48% for Prabowo. These unofficial quick counts, drawn from samples from polling stations, have usually been accurate to within a 1-2% margin of error.
But unlike previous Indonesian elections, this presidential race is a tight one.
"By most standards of democracies that we know, a vote spread of five to six percentage points would be seen as decisive. In the Indonesian context, this is pretty close," said Thomas Pepinsky, associate professor at Cornell University, who has an interest in South Asia.
On Wednesday night, Prabowo suggested he wasn't fazed by the quick count results.
"Let's allow KPU (Indonesia's election commission) to work and decide the victory," the candidate told his supporters.
"Despite the results we received from a number of quick count(s)... the real count says that we are higher than our competitor."
Prabowo, a former son-in-law of Indonesian president Suharto, has sought to project an image as a take-charge leader. Having never served in public office, the former lieutenant general has campaigned hard on his military service.
"We will be patient, be polite," he told supporters. "But don't ever think that we are weak. Don't ever think that we can easily be intimidated."
Millions of Indonesian voters cast their paper ballots Wednesday. These ballots will be counted at a local district level, then recounted at national level.
The entire process is expected to take two to three weeks.
Widodo told his supporters in Jakarta, "Our job is to guard and ensure that the count by the election commission is conducted in a proper, honest, clean way, free of any manipulation."
READ: Indonesia's choice: Military man or Jakarta governor
The next president will be inaugurated on October 20.
Indonesian voters have grappled with concerns over a sluggish economic growth, increasing violence against religious minorities and government corruption.
The next president needs to "make a strong push to rein in corruption that plagues Indonesia's economy and make it a suitable place for domestic and international investments," said Pepinsky.
CNN's Kathy Quiano reported from Jakarta and Madison Park reported and wrote from Hong Kong. CNN's David Molko contributed to this report from Jakarta.

Part of complete coverage on
CNN Recommends
10 questions about AirAsia tragedy
updated 11:28 AM EST, Tue December 30, 2014

With the discovery of debris from the AirAsia plane, investigators move closer to discovering what happened. What are the key questions, and what comes next?
AirAsia disaster's lasting impact
updated 11:40 AM EST, Tue December 30, 2014

The growth of AirAsia has been a regional aviation success story. The reason behind the loss of Flight QZ 8501 will be key to whether passengers start to shun it, says Alan Khee-Jin Tan.
'Africa is not a country' campaign
updated 5:45 AM EST, Fri February 7, 2014

They say there are no stupid questions -- but are there? How about, "Do you speak African?"
What broke China's Internet in 2014
updated 9:39 AM EST, Wed December 31, 2014

The year of outrage also applies to China's Internet users in 2014.
Swimming face-to-face with sharks
updated 8:21 AM EDT, Sat August 16, 2014

One man swims among sharks without the protection of a cage to make studio-quality, intimate photos of the sea creatures.
Turning footsteps into free energy
updated 6:50 AM EST, Tue December 30, 2014

Using a technology that has been around for 130 years, a company called Pavegen hopes to create electricity from everyday human activities.
Father of Web predicts next phase
updated 12:06 PM EST, Tue December 23, 2014

What's next for the Internet? Acclaimed scientist and fatherof the World Wide Web Sir Tim Berners-Lee shares his insights.
Best Instagram art of 2014
updated 7:45 AM EST, Tue December 30, 2014

Gone are the days of grainy phone images with the resolution of a poor imitation Monet.
'Killing will be our religious duty'
updated 4:00 PM EST, Mon December 22, 2014

A chilling video shows Boko Haram executing dozens of non-Muslims.
The year in pictures
updated 12:45 PM EST, Mon December 29, 2014

"The year in pictures" treks across the globe, looking back on the events that shaped 2014.
Defining Moments: Our changing world
updated 11:07 AM EST, Mon December 29, 2014

Each day, CNN brings you an image capturing a moment to remember, defining the present in our changing world.
Scenes from the field

Browse through images from CNN teams around the world that you don't always see on news reports.


© 2014-2019 ЯВИКС - все права защищены.